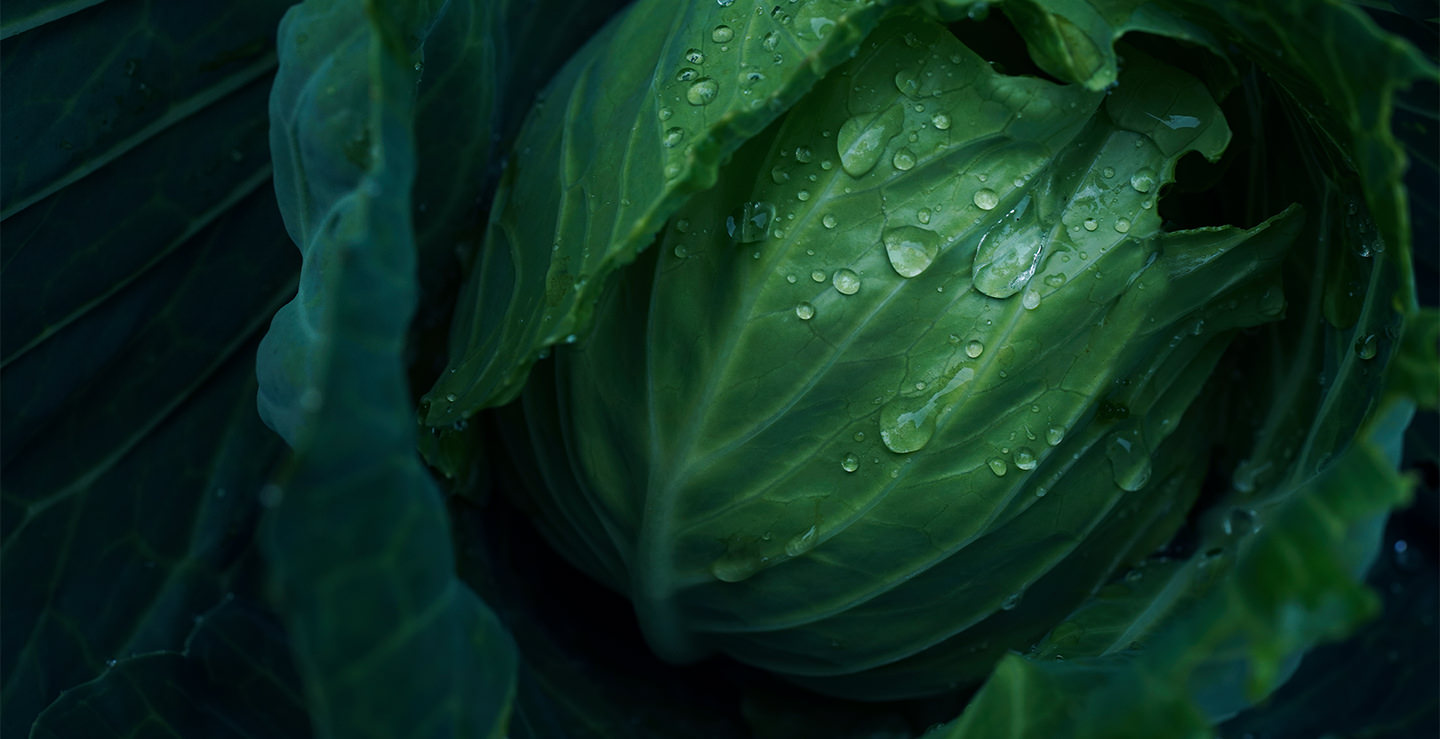 Food from the land.
Food of the season.
When you travel, what you really want is not a menu of ultimate quality brought together from around the world. It is to try local food from the land where you are staying. The vegetables that represent the bounty of the land are flavored by the seasons, bringing unique flavors to your table as edible fragments of the season.
The true roots of cuisine
Over thirty different types of vegetables grow in Tenku's terraced fields. No agrochemicals are used, so leaves may bear marks where insects have found them attractive. Tateo Tajima can tell if a plant is ready by its smell, and by the appearance of the fields. This is how cuisine used to be, the natural roots of food production.
Sprouts
We are used to eating vegetables after they have fully grown, but is that actually the best approach? We believe that picking and eating sprouts as soon as they appear is the greatest luxury, giving our guests the true flavors of the land here in Kirishima.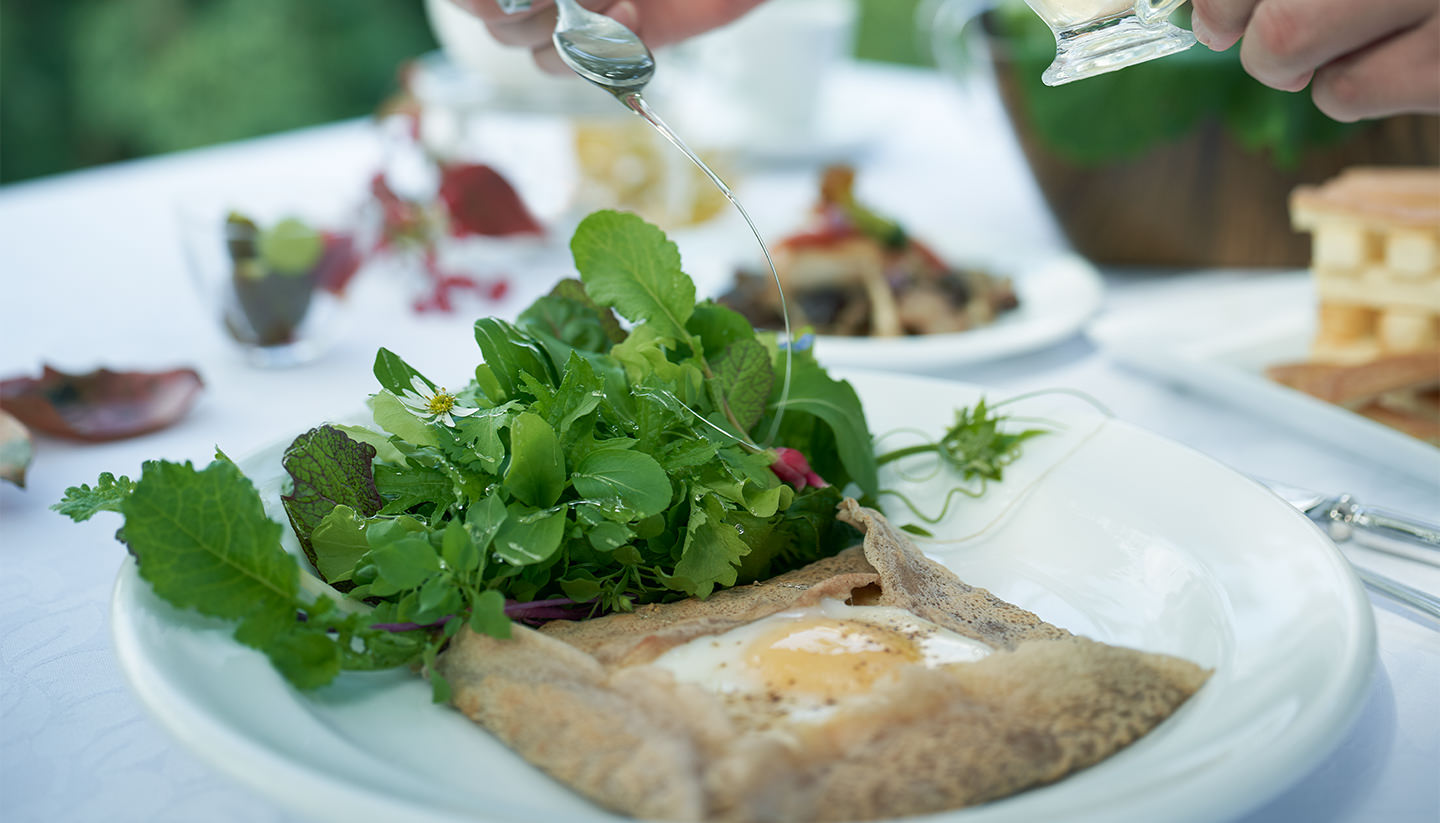 One day's breakfast menu
SPRING

Minestrone soup with spring vegetables
Grille vegetables and sautéed Satsuma chicken—with keraji pepper
Home-made butter and strawberry jam
Bonito butter
Breadsticks
Yogurt
Milk
Vegetable juice—Ichigo and watermelon radish
Kochschinken ham and egg galettes
Fruit

SUMMER

Summer vegetable tomato soup
Paprika, tomato, eggplant sprout filling
Homemade butter and blueberry jam
Tea butter
Pot-baked young corn
Yogurt
Milk
Cucumber, Nigauri juice, orange
Egg benedict and grilled vegetables

AUTUMN

Vegetable small bowl / sesame with spinach, boiled komatsuna
Stewed vegetables /Cooked mixture of pumpkin, taro, radish, carrot,shiitake mushroom
Boiled seasoned fish / boiled grunt
Seasoned grilled fish / sardine overnight dried
Pickles
Rice
Miso soup
Komatsuna and pear, persimmon
Fruits

WINTER

Potage of shiitake mushrooms
Bonito butter
Homemade butter and chinese orange jam
Shiitake mushrooms, cloud ear mushroom sauteed
Scrambled egg and weiss burst
Yogurt
Milk
Carrot, japanese radish juice, apple
Homemade bacon and Kochschinken, Spinach clock mush
Fruits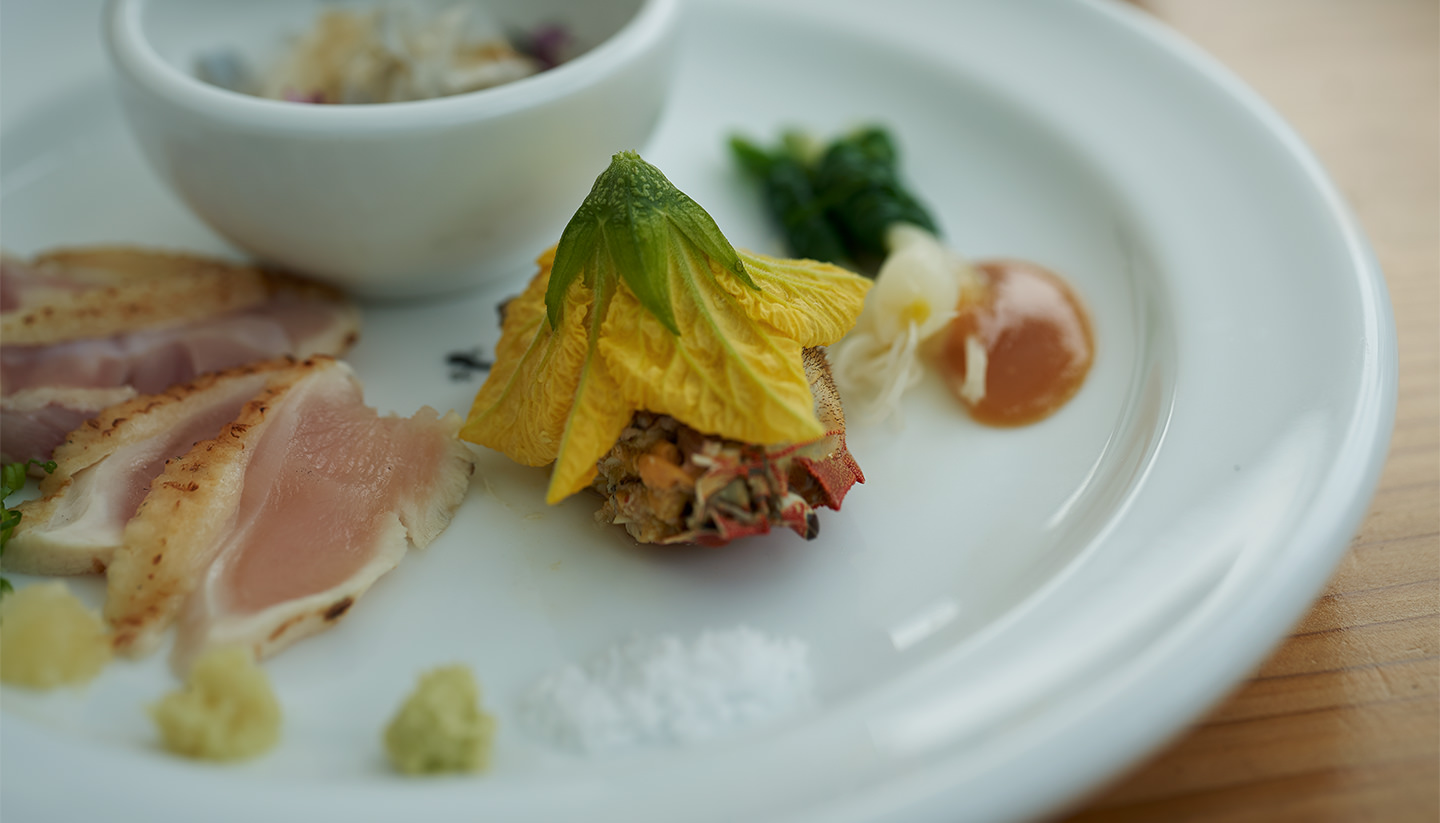 One day's dinner menu
SPRING

Salad of sprouts and sesame oil
Soup with honkarebushi bonito flake stock and Kirishima tea
Assortment of salt-grilled aralia sprout, shallots with vinegared miso, wild parsley in ponzu sauce
Bamboo shoot pot-baked dish
Buckwheat dough and pot-baked wild yam
Satsuma-jidori chicken tataki—with five spices
Satsuma-jidori chicken yakitori sashimi—with keraji pepper
Satsuma-age fishcake
Sweetfish-stock udon
Sweetfish tempura with wild greens (kogomi, kusagi)
Charcoal-grilled Osumi beef, with roast onions
Tenku vegetable and wild greens hotpot
Rice with bamboo shoots
Vegetable soup and tsukemono pickles
Desert

SUMMER

Sprout salad and sesame oil
Soup with dashi of Makurazaki mold-dried bonito and Kirishima tea
Carp skin vinegared, Shiso herb
Daimyo bamboo shoots and roasted green peppers, Nigauri
Lightly roasted Satsuma local chicken ~ 5 kinds of spices ~
Satsuma local chicken's grilled chicken ~ with Keraji pepper ~
Satsumaage
Salt-grilled sweetfish with toad lily
Udon noodles with sweetfish dashi soup
Grilled eel
Charcoal-grilled Oosumi beef with roasted onion
Vegetables of the sky, Wild grass pot
Corn rice
Vegetable soup and pickles
Dessert

AUTUMN

Sprout salad and sesame oil
Soup with dashi of Makurazaki mold-dried bonito and Kirishima tea
Shiitake mushroom sashimi and ginkgo
Japanese mitten crab with black vinegar, Red garlic with vinegar miso
Taro and bean curd baked and coated with miso, baked shiitake mushroom
Lightly roasted Satsuma local chicken ~ 5 kinds of spices ~
Satsuma local chicken's grilled chicken ~ with Keraji pepper ~
Satsumaage
Udon noodles with sweetfish dashi soup
Pot-baked Sardine
Charcoal-grilled Oosumi beef with roasted onion
Vegetables of the sky, Wild grass pot
Chestnut rice
Vegetable soup and pickles
Dessert

WINTER

Sprout salad and sesame oil
Soup with dashi of Makurazaki mold-dried bonito and Kirishima tea
Brussels sprouts and saddleback bacon
Saute of spinach
Lightly roasted bonito and sliced new onions
Lightly roasted Satsuma local chicken ~ 5 kinds of spices ~
Satsuma local chicken's grilled chicken ~ with Keraji pepper ~
Satsumaage
Udon noodles with sweetfish dashi soup
Small turnip warm salad
Grilled boar
Vegetables of the sky, Wild grass pot
Porridge of rice and vegetables
Vegetable soup and pickles
Dessert